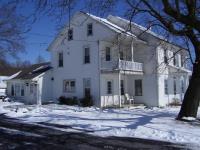 1484 Mountain Road
7.4 Acre Manheim Farmette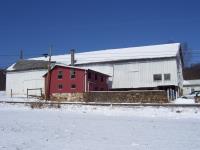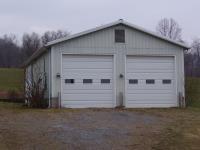 26'x 46' 2 Bay Garage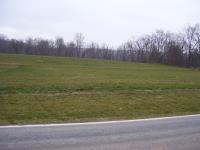 Parcel #2 - 1.96 Acre Building Lot
Parcel #1- 7.4 Acre Farmette/

Manheim

Area;
Parcel #2- 1.96 Acre Building Lot;
(4) Tractors, Farm Equipment;
Antique Farm & Butcher Equipment
Saturday, May 2, 2009
Auction Time: 9:00 A.M.
Real Estate: 12:00 Noon
Location: 1484 Mountain Road, Manheim, PA. From Manheim follow Rt. 72 North 5 Miles to Mountain Road. Turn Right onto Mountain Road 2.4 miles to property on left. Penn Twp, Lancaster County, PA.
Parcel #1- 7.4 Acre Farmette
W/ Stone and Frame Farm House - includes Kitchen w/ Quality Custom Cabinets w/ Corian countertops, Dining Room, Living Room, Family Room, Full Bathroom w/ Quality Custom Cabinets w/ Corian tops, (3) Bedrooms w/ closets, ½ Bath, Attic storage, Basement w/ outside entrance, Enclosed 3 season porch, Oil fired hot water heat system, Central Air conditioning- new May 2008, Well water, On Lot septic system, Macadame driveway.
26' x 46' 2 Bay Garage- w/ 2 10' doors, 1 with opener; Workshop & Storage Area. 12' drive thru bay in rear of garage w/ sliding doors.
Stone and Frame Bank Barn w/ Livestock pens, second story hay and Equipment storage, w/ attached 1 car garage, Attached tobacco shed and livestock shed, Corn and Equipment shed. Approx. 1 Acre of Fenced pasture, Excellent garden area, Balance open fields.
A great little Farmette that has been enjoyed by the Stauffer's for 20+ years. A wonderful place to raise a family, participating in 4H, gardening, etc. The House is in excellent repair w/ Thermal replacement windows, nicely carpeted & decorated rooms, top of the line kitchen and bathrooms. Mature trees and shrub landscaping.
Parcel #2- 1.96 Acre Building Lot
Nice Southern Exposure; Perked and Approved Lot; Approx 208' of frontage on Mountain Road. An excellent opportunity to purchase a Country Building lot with a nice southern exposure all ready to become your future home site.
Auction Note: Farmette & Lot offered seperately and as a Combination Entirety. Please come prepared to Bid and Buy on the Parcel of your choice.
Be Sure to see this property at Open House.
Saturday April 11, 18, 25 from 1-3 P.M.
Terms on Real Estate: 10% of Purchase price day of Auction. Balance due at final settlement to be held on or before June 16, 2009.
Attorney: Elvin Kraybill
Farm Equipment
International 385 Tractor
w/ 1715 hrs., Diesel, ps, 3 pt., hyd. Outlets, 14.9-28 tires
Farmall M Tractor w/ ps, 13.6-38 tires, Nice
Case VAC w/ Eagle Hitch; Farmall Cub w/ Cultivator
International #1190 Mower Conditioner 7' Cut; New Holland #269 Hayliner Baler; Pequea PTO tedder, 7'; (2) Flat bed wagons; International #14 rake; Smoker 24' Elevator w/ motor; IH #60 2 Bottom trailer plow w/ cyl.; Oliver 20 disc harrow; 9' cultipacker; Massey Ferguson 2 bottom 3pt. plow; Rhino 7' 3pt. Scraper blade; Ford 2 row 3pt. Corn planter; McCormick #30 manure spreader; IH #5100 21x7 Grain drill; Pincor PTO generator on cart; 3 section spring harrow; Lely 3pt. PTO spinner spreader; Woods Cadet 72 3pt. rotary mower; Thrifty 3pt. 2 row cultivator; International MFG. 3pt. 12" post hole auger; 3pt. 2 row markers; 6' 3pt. Field cultivators; 3pt. Carrier; 4"x15' Auger w/ motor; Buck saw;
Sea Nymph 12K Boat w/ trailer
4hp. Sea king boat motor; Electric trolling motor;
E-Z Manufacturing 16' trailer w/ tandem wheels portable Livestock Auction ring;
4-H Equipment
Hog Feeders 1,2 & 4 hole; Hog Barrel waterers; Chicken feeders & Nests; Rabbit pens & Feeders; Halters; Brushes; Sheep feeders; Barrel Feed trough; (3) Sunbeam clippers; Chicken crates; Wood and metal fence posts; Wire fencing; (2) PBZ 8' gates; 10' gate; PBZ hay rack;
Antique Farm & Butcher Equipment
New Holland #672 plate mill w/ bagger; Marietta Streiwigs 1 row corn planter; Potato plow; Hiller; Mountville Corn cracker on stand; Rohrers tobacco press; Platform scales; Wiard #80 walking plow; IH 1 hole corn sheller; Bag wagons; Old hay hook; Cast iron troughs - 6' Brunnerville, (3) 3' troughs, (1) 4' trough, (1) Corner trough; (3) Hog troughs; (5) Wooden Barn raising poles; Lancaster Forge; Blacksmith tongs; Wooden Wagon wheel; Barn Beam drill; Planet JR. garden planter; Farm Bureau seed planter; Banjo grass seeder; Log roller; Wooden peg rake; Tobacco shears; 2 Man cross cut saw; Grain cradle; Glass & Plastic chick waterers; Wooden egg crate; Wooden Dough tray; Cast Iron Butcher kettle; Dovetailed Copper kettle; Universal Bread maker; Universal #22 Meat chopper; Enterprise Sausage stuffer; Copper wash Boiler; Old market scale; Haines; Trunk; Griswold - Egg skillet, 6qt. pot, Skillets, Food grinder; Brass front scale; Ice tongs; Enterprise cherry seeder; Bone saw; Ford wrenches; IH implement wrenches; Ford oil cans; Screw Jacks; Axes - Stohler, Beatty Broad Ax, Mellinger Broad Ax, Brady Broad Ax; Keen Kutter, Kelly Vandium, Black Raven; Hatchets; Post hole Ax; Keen Kutter silver knife & fork set/12; Dunlap Draw knife; International Harvester General Line Catalog 1948-53;
Sheep
(2) White Face Ewes; (1) Dorset Ram; (3) Jan. Ewe lambs; (1) Jan. Ram Lamb
Misc. Items
32' Aluminum Ext. Ladder, 28' Wooden ext. Ladder; IH cylinder; 3pt. drawbar; White Mountain Ice cream freezer; Sleds; Log chains; John Deere 3' Snowblade; Lawn Boy 21" Walk behind mower; Lumber- 2x4's; 7'Fire place mantle; 16' Barn beam; Pile of split rail fencing; Cletus Rohrer ceramic cow; Bulldozer Fence charger; Approx. 100 Bale of Straw; Approx. 50 Bale of Hay.
Terms: Cash or Good Check Day of Auction. No out of state checks accepted. Food at Auction.
John D. Stauffer Auctioneers
John - AU-1509-L John Jr. - AU005226
Phone 717-627-0118 or 717-989-3955