Public Auction
(4) Tractors; Farm Equipment;
Irrigation Equipment; Trailers; Shop Equipment;
Furniture; Household Items
Friday November 23, 2012
Auction Time: 9:00 A. M.
Location:
2143 East Mount Hope Road, Manheim, Pa. 17545
Directions
:
From Manheim
follow Rte #72 North approx. 4 mile to East Mount Hope Road. Turn right onto E. Mount Hope Road 8/10 mile to farm on right.
From Exit # 266 (Lanc./Leb.) of Pa. Turnpike
follow Rte # 72 south approx. 1 mile to Mountain Road. Turn left onto Mountain Road follow 7/10 mile to farm on right. Penn Twp., Lancaster County, Pa.
Tractors
Case International 7120 Tractor w/Cab
4WD, 18 Speed Power Shift w/ 4 reverse, 3pt.,Diesel, 4 hyd. Remotes, new rubber, 6100 hrs.
Selling separate - Set of rear duals w/axle hubs, Suite case weights
Massey Ferguson # 3120 Tractor w/ Cab
4WD, Autotronic, 3pt., Diesel, dual hyd. outlets, good rubber, Good sound Tractor.
Massey Ferguson #285 Tractor
Diesel, 3pt., dual hyd. outlets
Massey Ferguson #255
Diesel, 3pt., dual hyd. outlets, sharp little tractor w/ good rubber
Hay & Harvesting Equipment
New Holland F P # 230 Forage harvester
w / metal alert, kernel processer, acid applicator. W / 3 row #3PN corn head, #27P hay pickup head;
Gehl #970 Forage Wagon
w/ roof &tandem gear;
Gehl # 920 Forage Wagon
w/ roof & tandem gear; New Holland # 8 Forage Wagon w/roof & tandem gear; Case IH #600 Forage Blower;
New Holland #1411
Discbine, 9' w/ rubber rolls;
New Holland #315 Baler
w/ thrower;
H&S Bi-Fold 12wheel Rake
w/ hyd.; (4) 16'Hay bale wagons w/ wooden racks; New Holland metal 16' Hay Wagon; New Holland #162 Tedder; New Holland #465 9' Disc Mower, 3pt.; 5 hp. Durabilt Hay Drying Fan w/ wood tunnels; Allied 35' corn & hay Elevator w/ chute; Kill Bros. # 385 Bin Wagon; McCurdy # 125 Bin Wagon;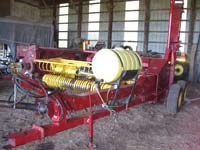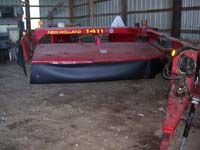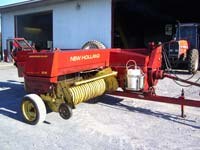 Planting & Tillage Equipment
Kinze # 2000 Double Frame, Twin Row, 6 Row Planter; Sun flower #
1232 18' Disc harrow
w/ new disc blades;
Brillion #103 20' Cultipacker
, bi-fold, on transport; Brillion 9 Tooth Chisel Plow, 3pt.; Brillion 17'Field Cultivator w/ fold-up wings; John Deere # 400 Rotary Hoe 3pt., 15'; 2 Row 3pt. Cultivator; McCurdy Bin Wagon w/ 12' Auger;
International #5100
Grain Drill
21 Double disc w/ Grass Seeder;
Equipment Carrier w/ Gear
; Massey Ferguson 4 bottom 16" Plow w/ auto reset, 3 pt.; Befco 3pt. Rotary Tiller,7'; Brillion 6 Row Nitrogen Knifer w/ Century 200 Gallon Tank
;
Huskee 3pt. Nitrogen Dripper w/ 29' booms;
Century Sprayer
3pt. w/ 200 gal. tank, 45' booms w/ foam marker; Garber PTO Seeder
; 2250 gallon Poly Tank;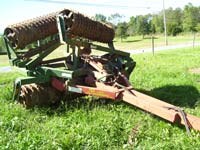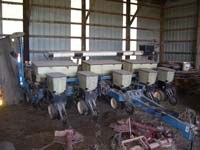 Irrigation Equipment
Rainbow Reel
on Gear w/ Nelson Gun, 500' of soft hose;
(2) 800' Reels
on Gears w/ soft hose;
(1) Nelson Irrigation Gun
on Gear;
Hale 6" Irrigation Pump
, 3pt., 1000 RPM; (7) 6"x30' Pipes; (35) 5"x40' Pipes;
Livestock Feeding & Manure Handling Equipment
Gehl # 3825 Skid Loader

w/ bucket, new Tires;
Selling separate
- Rubber Tire scraper; V Isle Scraper; 7' snow Blade
Roto-Mix VXT 425 Vertical Mixer Feed Wagon,

used 3 yrs., nice cond.
Zimmerman Feeder Wagon w/ Double 12 Head Locks; Portable Head Gate; Kreider Mfg. Head Gate; (3) Feed Bunks; (11) Poly Calf Hutches; (2) Mol Mix Lick Tanks; (2) Mineral Feeders; (2) Poly Round Bale Feeders; (3) Barn Fans; (4) Feed Carts; 6" x 11' Auger w/ motor;

Hydra Spreader # 275 Manure Spreader

w/ tailgate, Tandem axle; New Idea # 244 Manure Spreader, hyd. tailgate, tandem axle
Misc. Equipment
Long #1200 3 pt. Backhoe
w/ 18" Bucket; Clark 3 pt. Lift;
Woods # R-107 7' Rotary Mower
, 3 pt.; International 8' Blade, 3pt., w/ hyd. angle; Bush Hog Log Splitter, 3 pt.;
John Deere #3Post
Hole Digger
, 3 pt., w/ (2) augers- 9"& 12";
Genrac PTO Generator
on cart 120 kw/60kw, 1000 rpm;
2 Compartment Horse Trailer
, w/ title;
16' Flat bed Ducktail Trailer
, w/ title
; Grain Bin
Crane
w/ Hyd. Lift; old IH spreader cart; Lancaster Level Flo 8' Pipe w/ Goose neck; (4) spreader tires & wheels; Implement Tires; PTO Shafts; Western Style Pickup Racks; Portable Fans; (2) 12' concrete Barriers; (4) fence Chargers; Fencing Supplies; Wooden Fence Posts; Farm Gates; Platform Scales w/ weights; (2) Fuel Tanks w/ pumps; Electric Motors; Lincoln #225 Arc Welder: Vertical Band Saw; Plasma Cutter #LG-30E; Misc. Hand Tools;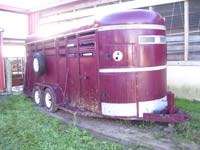 Appliances & Household Items
Maytag Wash Machine; G.E. Clothes Dryer; (4) Office Desks; 4 Drawer File Cabinet; Office Table; Bedroom Suite Dressers & Chest of Drawers; Chest Freezer; (4) Kitchen Chairs; (3) Refrigerators; Wardrobes; misc. Household Items; Pictures; Box Lots; other items not listed.
Auction Note:
The Zeisets have sold the farm and are retiring from dairying. They will be selling this excellent line of farm equipment on Friday, November 23. Plan now to make your end of year equipment purchases at this auction. For pictures and full listing visit our website at www.johndstaufferauctioneers.com.
Terms of Auction
: Cash or Good Check Day of Auction. No out of State Checks Accepted without Bank Letter of Guarantee. Please come prepared.
Food at Auction.
Auction For
Walter & Ruth Ann Zeiset
Phone: (717)-278-6460
Auction conducted by
John D. Stauffer Auctioneers
John AU-1509
Phone: (717)-627-0118 or (717)-629-4059
Lititz, Pa. 17543