Public Auction
Sold for $266,000
Attractive (3) Bedroom Brick Rancher
W / Attached 2 Car Garage/ On a nice lot just north of Lititz, Pa.
Furniture, China/Glassware, Guns, Toys; Coins;
Personal Property, Lawn & Garden Equip.
Saturday, October 13, 2018
Auction Time: 8:30 AM
Real Estate: 1:00 PM
Location: 202 West Newport Road, Lititz, Pa. From Lititz follow Rte. 501 north to West Newport Road. Left onto W. Newport road follow 1 mile to property on left, (corner of Newport Road & Troy Drive). Warwick Township, Lancaster County, Pa.
Beautiful (3) Bedroom Brick Ranch style House w/ 2 Car Garage
Includes: Large Kitchen w/ dining area; Living Room w/ fireplace; Dining Room w/ built-in corner cupboard; Family Room; (3) Bedrooms w/ closets; Bathroom; Laundry Room w/ half bath; Full Finished basement; Attic storage w/ stairs; Lovely enclosed porch; (2) car attached Garage w/ opener; carpet, vinyl, hardwood flooring; Electric heat; Electric hot water heater; water softener; 200 amp service; replacement windows; approx. 1840 sq. ft. 1st-floor living area; On lot well water & sewer; nicely landscaped lot;
Lot size: 125'x200'; Auctioneer Note: This is an excellent opportunity to buy a very well built brick house in a nice quiet community, with a very low maintenance exterior. Nice lawn and garden area. Owners moving to a retirement community and plan to sell at auction.
Open House: Saturday September 22 & 29- 1-3 p.m. – Saturday October 6 - 1-3 p.m.
Conditions of sale on Real Estate: 10%of sale price down day of Auction. Balance due at final settlement to be held on or before November 27, 2018. Attorney: Young & Young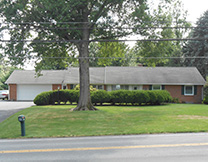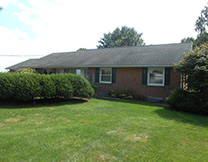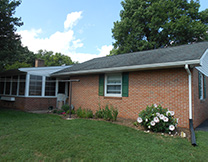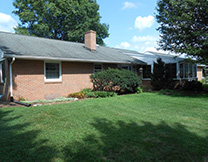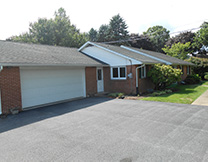 Furniture
3pc. Oak Roll top Bedroom Suite; Walnut tall case grandfathers clock; wooden dry sink; Oak ext. table, w/5 boards; (6) Dining room chairs; Dining Room Hutch; Round Oak Ext. table, w/3 boards; (2) Windsor style chairs, made by John Shelly, 1 Rocker; old wood box, nice; (3) china closets; Drop-leaf ext. table w/4 boards; old School desk; drop-leaf table; Sleigh table; washstand; glass curio cabinet; Table stands; (2) twin beds; kneehole desk; several upholstered chairs; miniature oak roll top desk; Bookshelves; Sofa & sofa bed; Child's chairs; toy chest; child's rocker's; agate top table; end tables; Kitchen chairs; sewing machine w/ cabinet; child's tables; wicker rocker; doll cradle, made by John Shelly; card table w/ (4) folding chairs; High Chair; Lifetime 8' table; (2) 8' tables; G.E. Stove; G. E. refrigerator; Philco. refrigerator; Frigidaire Upright Freezer; (2) window air conditioners; dehumidifier; Royal vacuum sweeper; Eureka upright vacuum; plant stands; Toshiba TV; Adirondack chairs; Porch chairs; Umbrella table; Speed Queen wash machine; Speed Queen clothes dryer; Agate Kitchen Sink; (2) benches; 2 drawer file cabinet; folding chairs; Lawn Chairs;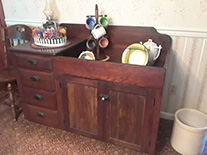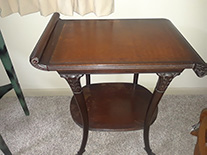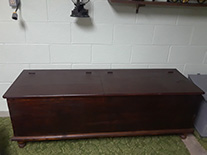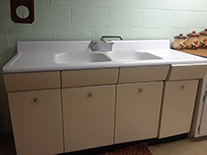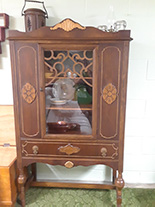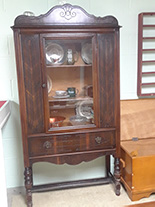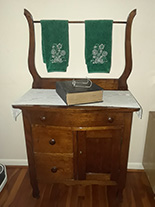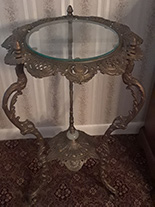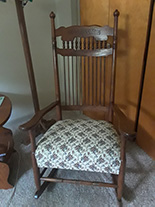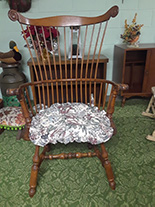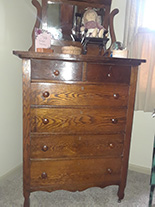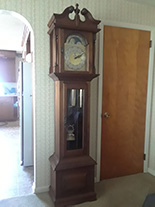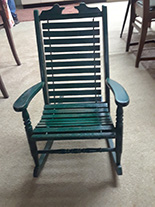 China/Glassware/Textiles
(3) Quilts; Coverlet; Comforters; (12) Braided Rugs; Afghan; Bed Spreads; Black Shawl; Table Cloths; Quilted wall hanging; sewing basket; (32) Peanut Butter Tumblers; Hallmark China dinner set, service/8; Fiesta ware dinner set /4; Fiesta Water Pitcher & Gravy; (2) Graybills dairy cream pitchers; Kingree Cream Pitcher; Assortment of Crocks & Jugs; Decorated Crocks; Pink, Yellow, & Green Depression Glassware; Carnival Glassware; England Set of 12 month Cup & Saucers; Germany, English, & Fine Bone China cup & saucers; Chocolate Pot; Noritake, Haviland, Germany, & Bavaria Flowered Serving dishes; (10) Iron stone plates; Teapots; Strawberry Jar; Mustache Cup; Cake Plates; Covered Bowls; Germany Celery; Morton Salt Tumblers w/ cream & sugar; Tumbler Sets; Sherbets; Butter Dishes; Candy Dishes; Cruets; Roseville Cookie Jar; Glass Baskets; (8) Hen on Nest; Salt & peppers; Pyrex Nest of Bowls; Fostoria Glassware: Hobnail Candy dish; Covered Compote Dish; Wall Mirrors; Wall Pictures; Kerosene Lamps; Milk Bottles – Graybills Dairy, Queen Dairy, Pine Grove Dairy, Lancaster Sanitary Dairy, Ryder's Dairy, Highland Dairy; Rogers SS silverware set/12; SS silverware set /8; Steak Knife set; Agateware; (2) Savory Roasters; Cherry Seeder; Acme Egg Scale; Child's Kitchen Set; Ice tongs; Lantern; Molding Plane; Belt coin changer; Golden Guernsey /Graybills Dairy Copper pot, marked Martin's Guernsey; Glass paper Weights; Marbles; Coffee Grinder; Shelf Clock; Bone Saws; Tobacco spear; Longaberger Baskets; Market Baskets; Wicker Sleigh Child's Books; Family Bibles; Old pin Cushions; Miller Door Knocker; Carom Board; Decorated Milk Can; Rooster Weather Vane; Sleds; Green Quart Jars; Pottery Planters; Coal bucket; Croquet set; Nesco roaster oven; 7 qt. Cooker; Food Grinder; Kettles; Tin Cookie Cutters; Tin Coffee pot; Music Box; Table Lamps; Wissler CI. Cat Dish; Umbrella Stand; Maine Wooden Bucket;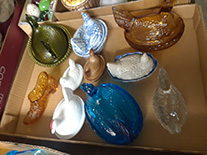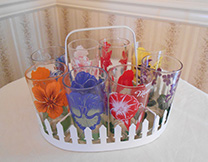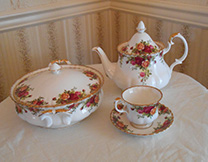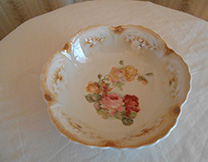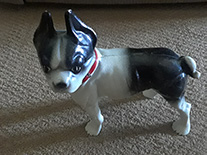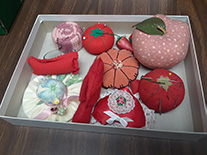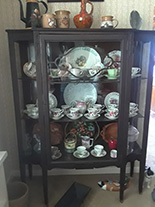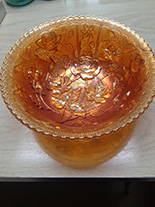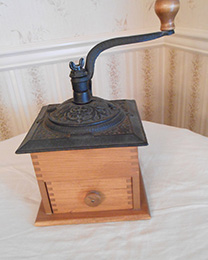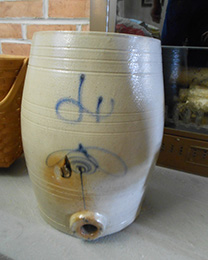 Toys/Guns 9:15 am
Approx. 100 Winross Trucks-Myers Metered Gas, New Penn, R.W. Sauder, Turkey Hill Dairy, Allied, Hall's Motor Freight, Roadway, Keller Bros., McQuade, NEMF, McCrackens, plus many others; (22) Hess Trucks; (17) Hess miniature trucks; Rohrer's Quarry Dump Truck; (5) Texaco Airplanes; Texaco & Shell Oil Tankers & trucks; Carlos Leffler Truck; (3) Hubley Trucks; Ertl Farm Tractors – Case-IH, Case, John Deere, (2) Oliver 70's, Ford Jubilee, Farmall H 50Th Anniversary, Ford 8n; Coca-Cola Truck; Cub Cadet Truck; Bank Trucks; Hershey Truck; Preston Freight Truck; (2) Telephone line Trucks; New Holland Truck; Wolfgang Candy Truck; Marble Roller; Games; child's wheelbarrow; Dolls; Wagon w/ Blocks; Guns: J.C. Higgins model #583 20 ga. Shotgun, bolt; Springfield model #50 22 cal. Rifle, bolt; wooden gun rack; Fishing Rod;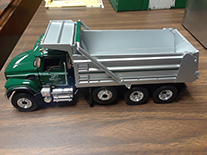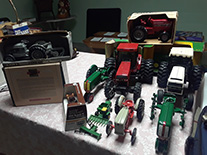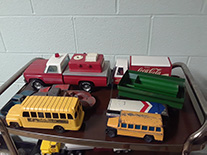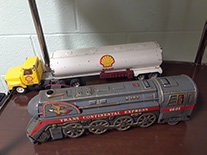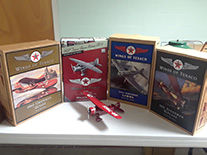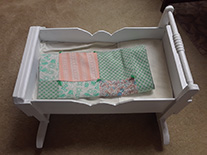 2008 Honda Odyssey Van 12:55 pm
1 owner van purchased new by the Millers, just over 40,000 miles, nicely equipped, 3rd Row Seat, well maintained;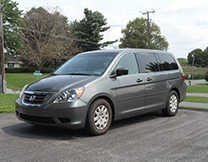 Coins 9:00 am
1922 Peace Dollar; Walking Liberty & Franklin Half Dollars; 1867 Shield Nickel; Mercury & Roosevelt Dimes; Jefferson & Buffalo Nickles; Wheat pennies; Commemorative Presidential $ collection; State Quarter map collection; Canadian coins & paper bills
Lawn & Garden Equipment 8:30 am
John Deere D130 Riding Tractor, approx. 385 hrs., like new; Honda 21" 3spd lawn mower, w/ Bagger; Snapper21" Lawn Mower, w/ Bagger; Honda HS80 24" Snowblower, w/tracks; John Deere pull behind Fertilizer Spreader, like new; Scotts Drop Seeder; Echo SRM-225 String Trimmer; Echo ES-210 Shred n Vac Blower; Echo CS 3900 Chain Saw; Lawn Trim/ Edger; Wheelbarrow; B&D hedge Trimmer; 10' & 4' Werner step ladders; Wooden ext. & step Ladders; Air Compressor; Craftsman Tool Chest; Snap-On socket set; Lots of Wrenches, Pliers, Hammers, Saws & Hand Tools; Industrial Sander; Buffer; B&D saw; Makita Driver Drill set; Live animal trap; Watering Cans; Lawn & Garden hand tools; Digging Iron; Sledge Hammer; Shelving; Igloo Chest cooler; 3 Prong Hay Fork; electric heaters; Stanley Plane; John Deere Tractor Wrench; Ext. Cords; Crates & Baskets; Car Ramps; Quoits; Saw Horses; Pole Branch Trimmer;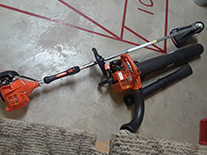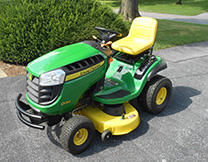 Food at auction. Tent if needed.
Terms on personal property: Cash or Good check Day of Auction.
Auction For
Warren J. & Ada E. Miller

Auction conducted by
John D. Stauffer Auctioneers
AU-1509
Phone: (717)-627-0118 or (717)-629-4059
Lititz, Pa. 17543