Public Auction
Furniture, Quilts, Collectible Toys, China & Glassware,
Brass Steam Whistle, 1/2 scale John Deere Hit & Miss Engine,
Replica Conestoga Wagon, Books, Kitchen wares,
(2) Farm tractors, Grasshopper Mower, 3' Mill Stone
Saturday, May 11, 2019
Auction Time: 8:30 a.m.
Location: 290 Wabash Road, Ephrata, Pa. 17522. From Rte. 322 in Ephrata follow Rte. 272 north 2.4 miles to corner of Rte. 272 and Wabash Road, the property is on the right. E. Cocalico Twp., Lancaster County, Pa.
Furniture
Large Wooden Corner Cupboard, - 5' wide x 8' tall; Large Decorated Setee, nice; Oak Washstand; Oak Dresser; Oak Rocker; Blanket Chest, signed- E. M. Weaver; Clawfoot Oak Ext. Table, w/ 9 boards; (6) Decorated Plank bottom Chairs; (5) plank bottom chairs; Chest of Drawers 1 over 3 drawers; Claw & ball footed table stand; Decorated plank bottom rocker; Childs Rockers & chairs; Oak Slant Front Desk; Bowers type slant top desk; China Closet; Chest of Drawers; Hutch; Cedar Blanket Chest; cane-seated chairs; nursery rocker; Dressers; Double Beds; Sewing Machine; Recliner chairs; Love seat; Sofa; Quilt Frame; Metal clothes rack; Wardrobes; miniature chests; card table; folding chairs; large, Evans & Watson Safe; bookshelf; Panasonic Vacuum sweeper; fan on stand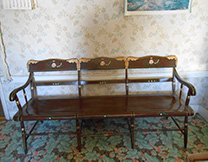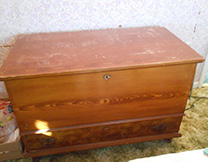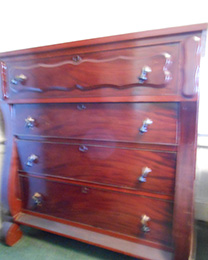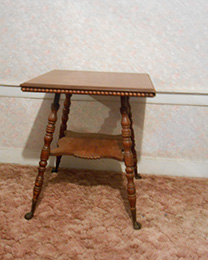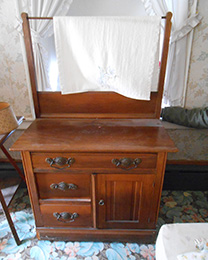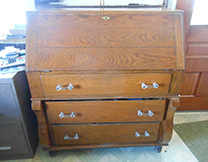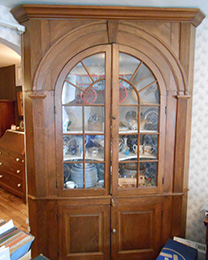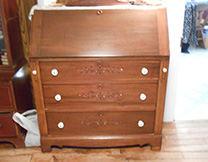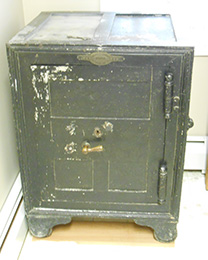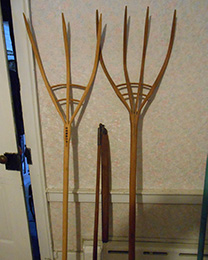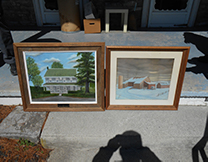 Books
(38) Grace L. Hill books; (16) Little House books, by Laura I. Wilder; I Life My Lamp book; (6) Christmas Carol Kauffman books, Search to Belong, Light from Heaven, etc.; Janette Oke books; Gene S. Porter books; Louisa M. Alcott books; Black Beauty, by Sewell; Bobbsey Twin books; Pilgrims Progress; 365 Bedtime stories book; Heidi; Hardy books; Rosanna the Amish; Lassie; 3rd grade reader; Polly Anna; Weaverland Church directories; old Lancaster County Atlas; Zimmerman Family History; Nolt Family History; Harry Rutt Family History; Rueben M. Weaver Family History; old church hymnals; Mennonite Community Cookbook; Cookbooks; 150 yrs. of International Harvester; John Deere History; American Gas Engines; History of Ephrata Cloister; American Farm Tractors; John Deere Tractors & Equipment; John Deere Shop manuals; John Deere decals; children's books; Little Golden books; Archie Comic books; old deeds;
Collectibles & Toys
Brass Steam Whistle; 1/2 Scale John Deere Hit and Miss Engine, on Cart; Replica Conestoga Wagon, #4, made by Dan Hoover; Wooden Train Whistle, made by Eli Herr; M.B. Young 4 prong wooden shaker fork; C. Musser 3 prong wooden fork; Wooden Flail; Stricker axe; Parkers coffee grinder; (3) New Holland Wrenches; Brass Lock w/ key; Pocket Watch; Pocket Knives; Double wheat sheaf Butter Print; Acme egg scale; Cowbell; York #12 Crock; several jugs; sled; grass seeder; Berry crates; old lard tins; kerosene lamps; Shelf clock; Toys: Child Queen cast iron stove; Old bisque head doll; (6) misc. dolls; Raggedy Ann dolls; Precision Farmall tractor; McCormick gas engine model; Massey Harris 44 tractor; (3) John Deere tractors- R, G,&D; Hubley Truck; Tonka Truck; Wooden Blocks; Wooden toys; Marbles; Milk Bottles- (2) Fairview dairy, Farmer Fairfield, Royal Crest; Macker Brewing Bottle, Lancaster; Gallon Jugs; Blue and clear canning jars; J. McVey barn picture; old license plates; Carrom Board; Shoe Last; music box; puzzles and games; (25) Winross Trucks- Weaver Bros., M.M. Weaver, Binkley & Hurst, Rough & Tumble, Bilran excavators, Dunlap, Kurtz; Ertyl - Hatfield truck; Guns- Marlin 22 cal. Semi Rifle; Stevens model 75 22 cal. Pump action;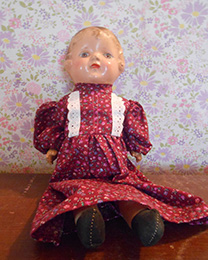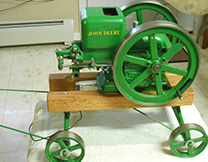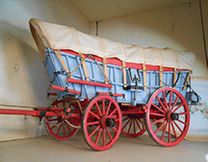 15 Quilts
Appliqued Sampler, Antique 9-Patch, Irish Chain, Sampler, Postage Stamp, Scrappy 9 Patch, Amish Bars, Appliqued country Love Grap Cluster, Appliqued Tulip, Antique 25 Patch, Appliqued Snow Flake, Small Blocks; 9- patch crib Quilt; Star 9 Patch crib Quilt; Quilt Top; Comforter; Baby Shawl; Counter Pane; Chenille Bedspread; Vintage bedspread; Vintage Table cloth; Doll Quilt; Titus & Lizzies 40th Anniv. Irish Chain Quilt; Vintage child's clothing; Buttons; Rug Runners; Hooked Rugs; Quilt Patterns; Quilt rack; sewing supplies;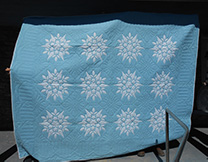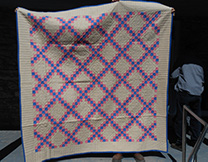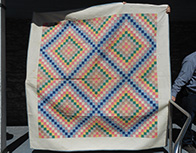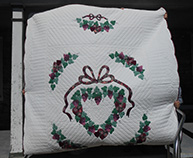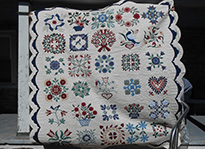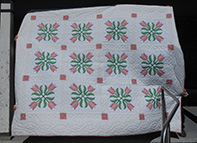 China/Cookware
Royal Hostess China dinner set/16; Bavaria Serving dish; Yellow Depression serving bowls; Carnival Bowl; Glass serving dishes; Platters; Glass basket; Halls Bowl; Green glass Juicer; wall pocket vase; Sunbeam Mixer; Toaster; Kettles, SS mixing bowls; Savory roaster; Agate canner; Cast iron skillets; Flour sifter; Oneida silverware set/12; Egg beaters; Kitchen Utensils; everyday china & glassware;
Tractors/Car
John Deere #60 w/ ps., hyd.; Massey Ferguson #230, Diesel, 2/ 3pt., ps., hyd., rear weights; 6' Bush Hog rotary mower, 3pt.; Grasshopper 721D zero turn mower, 72" cut, w/ rear bagger; Honda 21" mower, self-propelled; Papec belt pulley; Express wagons; wheelbarrow; bicycles; Fence charger; tobacco trimmers; tobacco spears; (2) wooden Kegs; Baskets; approx. 3' Mill Stone; (3) sandstone blocks; 1997 Volvo 850 Car, 4 door, R- Title, 70600 miles;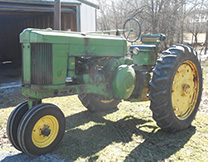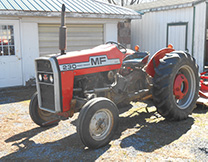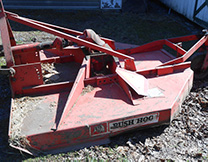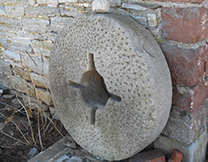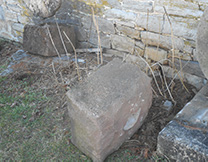 Notice for Private Sale - 10.5 Acre Farmette w/ Stone House and Stone Bank Barn.
For more information: call Ken at- 717-587-2457 or Paul at 717-283-5940
Auctioneer Note: A nice collection of Good Quilts, Collectibles, and Books. It will be a good old time Country Auction. Food at Auction. Tent if needed.
Terms of Auction: Cash or Good Check Day of Auction.

Auction For
Titus N. Weaver

Auction conducted by
John D. Stauffer Auctioneers
AU-1509-L
Phone: (717)-627-0118 or (717)-629-4059
Lititz, Pa. 17543