Public Auction
(5) 2 Cylinder John Deere Tractors
Shop Equipment, & Tools
Saturday, June 29, 2019
Auction Time: 9:00 a.m.
Location: 1366 Shumaker Road, Manheim Pa. 17545. From Rte. 72 north in Manheim turn left onto Colebrook St. which becomes Old Line Road. Follow 1 mile. Bear right onto Shumaker Road, approx. 1 mile to property on right. Rapho twp. Lancaster County, Pa.
(5) John Deere 2 cylinder Tractors
John Deere 830 Diesel- w/ wfe, hydraulic outlets, pto, power steering, electric start, 18.4-34 rubber, clamshell fenders; John Deere 730 Diesel- w/ wfe, power-trol hydraulic outlets, pto, power steering, electric start, 3pt., 15.5-38 Rubber w/ new rims, top link; front frame weights sold separate. John Deere 530- w/ 3pt., pto, hyd. Outlets, 13.6-38 rear rubber; John Deere 430 Standard- w/ 3pt., hyd. Outlets, power steering, rear weights; (1) row cultivator, front weight sold separate; John Deere G; John Deere #45 Combine- w/ 10 foot grain head, 4 cyl. Hercules engine; IH 16' flat wagon, w/ side boards; John Deere 2 bottom 3ptx. plow, w/ depth wheel; 3 pt. tool bar; 2 row mounted cultivator for 520; John Deere tricycle front end fits a 730; (2) John Deere hyd. Cylinders; an assortment of John Deere 2cyl. tractor and cultivator parts; John Deere metal parts files;
Shop Equipment/Tools
Craftsman 2hp. Air compressor, w/ 33gal. air tank, 150 psi; Kwik Way valve lathe, w/ resurfacer; Clean-O-Matic parts washer, w/ pump; Craftsman tool chest, 2pc. top and bottom; Dayton 14" tabletop drill press; Metal shop Table; Vice; Bench Grinder; Mini Welder; Coats 10-20 Tire changer; Micro Precision tire balancer; shop lights; Hyd. Engine lift crane; Engine Stand; Craftsman floor jack and stands; Battery changers; Bold bin, w/ hardware; metal and wooden shop cabinets; Shop desk; Electric ext. cords; Hand and air tools; Lockers and shelving; McCulluch chain saw; John Deere weed trimmer; Noma rototiller; work bench; push pull; fuel cans; chain binder; saw horses; John Deere duster; barrel pump; New Idea equipment sign.
One Horse Market Sleigh
Old meet grinder on wooden stand; painted jelly cupboard; wooden wagon jack, tobacco sizing box; (2) cast screw jacks; Duff jacks; block and tackle; May Tag wringer wash machine; sleds.
Auctioneer Note: Due to Andrew's health he has decided to liquidate his tractor collection and shop equipment. Providing you the opportunity to purchase John Deere 2cyl. Tractors and shop equipment.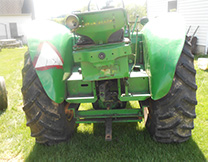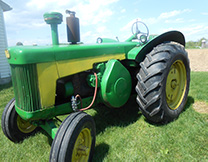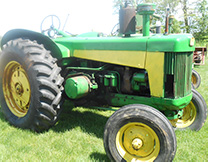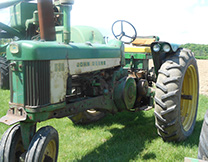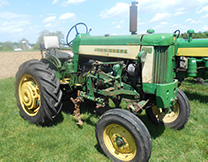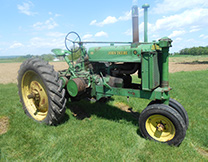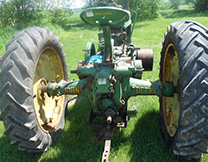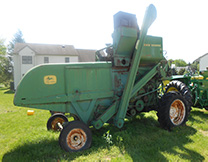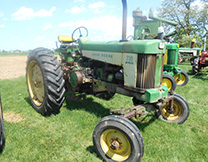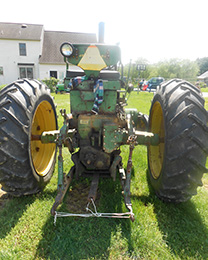 Food at Auction.
Terms: Cash or Good Check Day of Auction.

Auction For
Andrew L. Weaver

Auction conducted by
John D. Stauffer Auctioneers
AU-1509-L
Phone: (717)-627-0118 or (717)-629-4059
Lititz, Pa. 17543